Healthy smoothies for kids can be a great way of getting some good nutrition into even the most reluctant of eaters. My kids love smoothies these days! I've got one who is not a breakfast fan, and it's all I can do to get him to eat something before he walks out the door in the morning. But he'll take a smoothie with him to drink on the bus.
I've got another child who loves breakfast, but won't eat much lunch. He comes home starving and grumpy, and unable to recognise that he's hungry. A quick, healthy smoothie gets him set up and ready to go for after school activities.
I'm not much of a breakfast fan, either, but I know if I don't have anything that I'll be crashing by 10am. And I'm a working mother, so I'm often rushing out the door, smoothie in hand to be drunk on the go for the school and office run.
Even my husband has got in on the act, and is great at keeping our freezer stocked with ready chopped frozen bananas, and packs of frozen organic berries for easy smoothie making. We always have plain yoghurt in the fridge, and I've managed to add extra protein, like nuts and nut butters, and even chia seeds into the list of acceptable smoothie additions. The one thing I haven't managed to convince them on is that you don't need sweeteners, but at least I've managed to restrict that to honey or maple syrup.
If you haven't given smoothies a go at your place, why not try one of the delicious options below? And even if you're into smoothies already, these might give you a few delicious new ideas!
This easy strawberry smoothie from 3 Boys and a Dog is pretty simple, but it's packed with fresh fruit, protein, fibre, and nutrients. It's not just healthy, though, it's delicious and even the most unadventurous of kids will love this smoothie.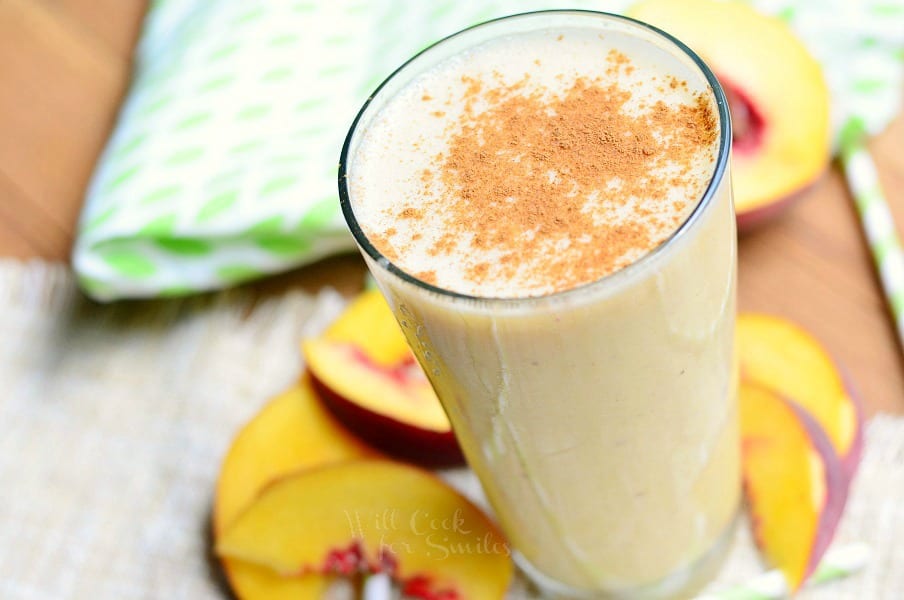 I love this simple peaches and cream breakfast smoothie from Will Cook for Smiles. And while the recipe calls for non fat vanilla yoghurt, I'd be more inclined to go for a full fat, probiotic natural yoghurt and add some extra vanilla to the mix. Scrumptious!
What kid (or big kid!) doesn't love the peanut butter and banana combo? And if you take Yummy Healthy Easy's advice and add a bit of chocolate or cacao to the mix, you can make it even yummier!
I'm a huge fan of the raspberry and chocolate mix, so this smoothie from Oh My Veggies is right up my alley. I'm not big on flavoured milks, so I'd be more inclined to go with plain milk and add my own cacao or vanilla. And the chia seeds in this will keep you full until lunchtime.
Okay, so we're not talking strictly smoothie here with this Chocolate Banana Avocado Smoothie Bowl by Emilie Eats, but this combo is so good that I had to include it. Chocolate and avocado, I hear you say? Trust me, this is one super yummy mix!
The most delicious of combinations are not always ones that you'd think of. Apple and strawberry in a smoothie? But it works so well together, that I wondered why I hadn't thought of it before. Thanks, Gimme Delicious!
When you're using chia seeds in a recipe, you do need to soak them a little beforehand. I find that 15 minutes is plenty, so I usually mix up my chia seeds and head for the shower. When I'm showered, I start whizzing the smoothie up. This recipe calls for overnight soaking, and if you want a really smooth smoothie, that's probably a good idea. I love the flavour combinations of raspberries, coconuts and chia in this smoothie from Super Healthy Kids.
I have a pile of mangoes in my freezer from a school fundraiser, so what better way to use them up than in a smoothie? This yummy smoothie from Eat Yourself Skinny adds avocado, orange juice and mint to the mango mix. I'd probably add a whole peeled orange to this, because we never have juice at home. Plus you'd be getting the extra fibre from the whole fruit. I'm loving the addition of the mint, too!
Image Credit: DepositPhotos
Are you and your kids smoothie fans? What's your favourite combo? Share in the comments below!
Get the latest posts straight to your inbox every week!