I love soups. In summer I make big batches of ice cold gazpacho and cold cucumber soups, and in winter I've usually got a stash of hearty soups in my freezer for cold days when I need something warming and filling for lunch.
There was ice on my car this morning, so I thought it was high time I shared some of my favourite healthy and hearty winter soups with you.
This lentil, tomato and spinach soup from Jamie Oliver is chock full of good for you stuff like red lentils, sweet potato and tumeric. It's nice and filling, and so simple to make.  It freezes well, too.
I love a Thai soup – sweet and sour, spicy and savoury all at the same time. This Thai Coconut Soup by Yummy Healthy Easy is really easy to make and it can be cooked in under 30 minutes. That's faster than getting a takeaway!
This Butternut Squash Soup by Jessica Galvin is an Italian take on the classic Australian pumpkin soup. I love butternut squash, but my boys aren't so keen. Adding some Italian sausages as a topper means that my kids not only eat it, but love it!
Who can resist tomato soup? Not the horrible canned stuff with all the added sugar, but a delicious homemade one like this one from Sprouted Routes. Even if you don't have lots of lovely home grown tomatoes hanging around, you can still get the same flavour with a tin of good peeled tomatoes, roasted off in the same way. And I have to admit, sometimes I don't even bother with the roasting – I just make the soup! Still delicious.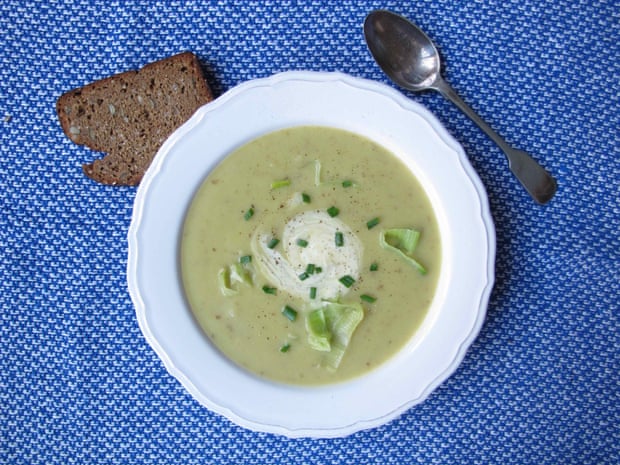 Leek and potato soup is insanely easy to make, and it's so delicious. I like this version from The Guardian, but I don't usually bother baking the potatoes first. Sometimes I use potatoes with skins on, if I want a rougher, more robust soup. And sometimes I peel the potatoes first, for the most velvety refined version. I make this in large batches, and then freeze individual portions so that I've got grab and go lunches for work or lazy weekends.
A rich and delicious beef and barley soup like this one from SBS makes cold winter days worthwhile. My whole family loves this, and it's so good with homemade beef stock that I make batches just for this soup. I usually leave out the potato, as I don't think it freezes well, and I generally add heaps more veg. I like lots of carrots, onions and celery, and swede and parsnips add extra deliciousness if you can get them.
This is another one of my kids' favourite soups. Chicken and Corn Chowder by Annabel Karmel is a cinch to make, it's super quick and it's hearty and filling. There's nothing 'weird' in this, so kids will love it and eat it without fuss. It's a great soup for sending along in a flask for school lunches.
For winter soups, you can't go past clam chowder. Before we had kids, my husband and I went to New York and Boston one Thanksgiving. Boston was freezing, and I ate a bowl of clam chowder that was so warming and delicious, that I bought a recipe book of New England cooking so I could recreate it at home. I still use that recipe, but this one from The New York Times is just as delicious. I make this with pippis that I can usually buy from my local fishmonger.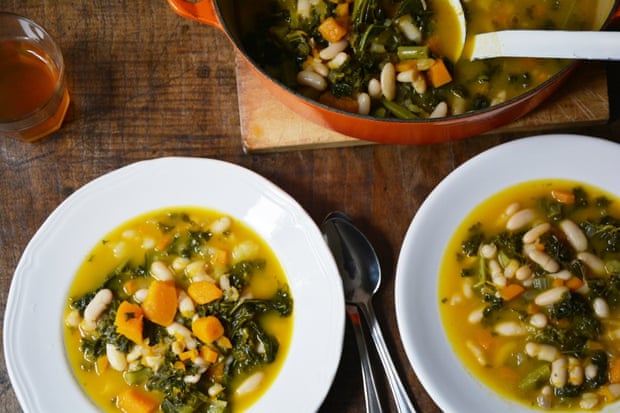 I remember eating Minestrone on a family trip to Sydney. We ate in a long gone Italian place in The Rocks in Sydney, called The Spaghetti Factory. It seemed like the height of sophistication, eating Italian, in Sydney! (I was a small town girl from Queensland, which probably explains why I found it so thrilling at the time.) Although there are many versions of minestrone, you can't go past this winter version from Rachel Roddy.
What are your favourite winter soups? Share below!
Get the latest posts straight to your inbox every week!