Cheat Sheet – Safer Disposable Nappies
My eldest son was in cloth nappies full time. We had a great routine going, but we couldn't work out why our darling baby wouldn't sleep at night until we realized that the feel of a wet nappy woke him up. We persevered, but eventually, zombie-eyed, we gave in and put him in a disposable at night.
Many of us use disposable nappies, even fully committed cloth nappy users. Sometimes, it's just easier to use a disposable nappy – when you're ill, if you're travelling, when your baby goes to childcare.
Whatever your reason for using disposables is, it makes sense to choose a nappy that's better for your baby, and better for the environment. Eco nappies used to have a reputation for having an absorbency like a cardboard box, but that's definitely not true any more. Our top pick, Bambo Nature, not only scores well on the ethical, ingredients and environmental scores, but was also the best performing nappy in a recent review by Baby Gear Lab.
Unfortunately, it's not as easy to compare disposable nappies as it is to compare baby lotions. Manufacturers don't have to disclose all their ingredients, and many won't tell you even if you ask very nicely.
Spoiler alert: this article gets pretty technical, so for those of you who just want to know the good stuff, here's my list. For all the meaty, nitty gritty details, scroll down and keep reading!
Top picks:
1. Bambo Nature
2. Moltex
3. Beaming Baby
Better than the supermarket brands:
4. Seventh Generation
5. Nature BabyCare
Not on my baby:
6. Huggies
7. Snugglers
8. Pampers
Nappies get pretty technical. So let's start with a Disposable Nappy 101 class – what's in them?
What's actually in a disposable nappy?
There's a lot of engineering, and a lot of technology in a disposable nappy. However, all disposable nappies have the same basic parts:
Inner lining
Often made with polypropylene or polyethylene (both of which are considered to be safe plastics), to hold the absorbent centre in. Some manufacturers infuse this layer with a moisturising lotion. As we know, moisturising lotions can contain all sorts of chemicals, including phthalates and petroleum based products.
As this is the part that sits right next to your baby's skin, it's important that you know what this is made from.
Absorbent core
The bulk of a disposable nappy is the absorbent centre. This is usually made up of wood pulp and superabsorbers. Super absorbers were first used in disposable nappies in the early eighties, and the first ones used were sodium polyacrylates (SAPs). SAPs can absorb up to 30 times their weight in liquid, which means that nappies need a lot less of the bulky woodpulp, and are much more effective at containing leaks. The fact that nappies absorb a lot of moisture also means that babies are a lot less likely to get nappy rash. Some of the eco nappies are now using some super absorbers made from biodegradable materials, such as wheat or corn. The natural super absorbers are not yet as effective as the SAPs, which is why there's still a mixture being used even in the most eco of disposables.
The wood pulp is usually bleached, and often using a chlorine based bleach that can leave behind dioxins.
Some nappy manufacturers put a fragrance in between the absorbent core and the outer layer. Fragrances can be made up of dozens of different toxic chemicals, which is why many people have allergic reactions to fragrances and perfumes.
Waterproof Outer layer
The outer layer is often made of polyethylene or polypropylene film, and prevents the nappies from leaking. This layer can contain phthalates.
Inks for cartoon characters
All those cute little cartoon characters on nappies are printed with ink. These can be skin sensitizers such as Disperse Blue 106, Disperse Yellow 3, Blue 106, Orange 37/76, Brown 1. Inks can also contain heavy metal pigments.
Tabs, elastics and glues
The sticky tabs fasten the nappy around baby, and the elastics around the legs to help prevent leaks. Glues are used to stick all these things together.
Ingredients in Disposable Nappies
Because so many manufacturers refuse to disclose what is in their nappies, it's almost impossible to find out all the different chemicals in some nappies so you can make an informed choice. For this reason, I'd encourage you to choose a nappy where the manufacturer discloses all their ingredients.
I also have a rule of thumb on buying personal products – unless the manufacturer specifically tells you that their product does not contain a harmful ingredient, assume it's there. Sometimes you'll have to ask the question, because there's only so much space on a pack. However, if you want to avoid a particular ingredient, go and check out the manufacturer's website, and ask questions. If they don't answer you, assume the worst!
What to look for in a disposable nappy
Chlorine free
Fragrance free
Lotion free
phthalate free
Full disclosure of ingredients
cradle to grave eco certification for a lower eco footprint
I emailed various manufacturers and asked for a full list of their ingredients, as well as asking about specific ingredients, such as whether they bleach with chlorine, or whether their nappies contain phthalates, perfumes or lotions, amongst other things.
I approached Huggies, Snugglers, Pampers, Bambo Nature, Moltex, Seventh Generation, Beaming Baby, Nature Babycare.
What's in Huggies nappies? 
When I asked Huggies about the ingredients in their nappies, I was directed to their website, where they answer the question 'What are Huggies nappies made from?'
The website tells us that the inner lining is made from polypropylene and polyethylene, as is the 'surge layer' below the inner lining. The inner lining touching baby's skin has a 'pure gentle balm', but we couldn't get any information as to what this lotion contained.
The absorbent core is a mixture of woodpulp, from 'sustainable and renewable plantations', and a sodium polyacrylate super absorber.
The waterproof outer layer, according to the Huggies website, is a 'cloth like outer cover'.
There's nothing about what any of the tabs, elastics, or ink is made from. All we were told about the glue was that it was 'safe and non-toxic'.
The question of chlorine bleaching is directly addressed, with the website saying that they are 'bleached with hydrogen-peroxide, not with chlorine', and that there is no latex at all used in the manufacturing process.
We emailed again with more specific questions, but didn't get any answers. When we phoned the helpline, we were told that the information we were after was commercially sensitive, and that they declared everything they had to.
Huggies and Snugglers are made by Kimberly-Clark Australia, and as their website information was identical, I've assumed that Snugglers nappies have the same ingredients as Huggies.
What's in Bambo Nature nappies? 
Abena, the manufacturer of Bambo Nature, are amazingly forthcoming about what's in their nappies. They sent us a full list of everything used in their nappies.
The inner lining is made from polypropylene, without using any dangerous chemicals such as chlorine, solvents or phthalates.
The absorbent core is made from peroxide-bleached (H2O2) paper material from controlled forestry without the use of optical brighteners. The super absorbers are a mixture of biodegradable wheat starch and acrylic polymers (sodium polyacrylates).
The waterproof outer layer is a mixture of polypropylene and polyethylene.
The tabs are made from paper and polyethylene and foil produced from polyethylene; the glue is made from resin and wax; and the elastics are made from lycra. The inks don't contain any heavy metal pigments.
There are some other small parts produced from polypropylene without the use of organic solvents, chlorine or phthalates.
There are no perfumes, moisturising lotions or latex used.
Most impressively, Abena, the manufacturer of Bambo Nature, also emailed us a list of ingredients that they know are NOT in their nappies, including phthalates, PVC, chlorine, lead, TBT, and a whole bunch of other nasties.
In addition, Bambo Nature nappies are certified by the Nordic Swan Eco Label, which has a long list of chemicals that cannot be in the product. It's an independently certified eco label, run by five Nordic governments, so it's a trustworthy one.
Bambo Nature scored top marks in the Ethical Consumer Guide to Disposable Nappies.
What's in Moltex nappies?
Moltex was a another manufacturer who replied commendably quickly to my request for information on ingredients.
The inner lining is 40% polylactic acid (which is biodegradable) and 60% polypropylene.
The absorbent core contains FSC certified, chlorine free wood pulp and a sodium polyacrylate super absorber. There is also a tea leaf extract in the core to neutralise odours, but we didn't get any information as to what this actually is.
Waterproof outer layer is a biodegradable film made from a mix of copolyester and polylactic acid.
The tabs are made from polypropylene, polyethylene, polyurethane and hotmelt (a form of thermoplastic adhesive, but we weren't told what the actual ingredients were); the glue is hotmelt; the elastics are made of polyurethane elastomer; and the ink doesn't contain heavy metals.
There are some other small parts to the nappy that are made from polypropylene.
There are no perfumes or moisturising lotions, and there's no latex. Moltex also specifically say that they are free from TBT (tributyltin).
Moltex nappies are certified in Australia by GECA (Good Environmental Choice Australia), which doesn't allow the use of chlorine or optical brighteners, phthalates, or organic solvents and inks can't contain heavy metal pigments. There's more information about the GECA standards for nappies here.
Moltex nappies also scored very well in the Ethical Consumer Guide to Disposable Nappies.
What's in Beaming Baby nappies? 
When I first emailed Beaming Baby I didn't get much detail by way of reply. However, a few weeks later I received a very detailed follow up email which had clearly taken them a long time to put together (for which I am very grateful!).
The inner lining is a mixture of polypropylene, polyethylene, and PLA polypropylene (PLA polypropylene is biodegradable) and a lotion made from aloe vera.
The absorbent core is made up of chlorine free wood pulp and super absorbers made from 80% sodium polyacrylate and 20% bio-SAP from non-GM corn starch.
The waterproof outer layer is made of oxobio polypropylene and oxobio polyethylene. Beaming Baby say that this is biodegradable, but according to European Bioplastics, it's degradable rather than biodegradable.
The tabs are made from polypropylene and polyurethane; the glue is a thermoplastic polyolefin; the elastics are made from polypropylene and polyethylene; and we didn't receive any information about the inks.
There are some other small parts to the nappy that are made from polypropylene.
We were also told that Beaming Baby nappies are chlorine free, latex free and contain no perfumes or phthalates.
What's in Seventh Generation nappies?
Seventh Generation replied quite promptly to my email requesting ingredients. Here's what they said:
"Our diapers are made of chlorine free wood pulp fluff, sodium polyacrylate (also referred to as SAP or absorbent gel), polyolefin nonwoven fabric, adhesives, polyolefin film, synthetic rubber elastic strands."
(Hello Charlie note: the polyolefins used are polyethylene and polypropylene.) We also found a listing of ingredients in Seventh Generation nappies listing on the website that was the same as the email I'd been sent.
Further digging and questioning got us little farther.
The inner lining of Seventh Generation nappies is polypropylene.
The absorbent core contains chlorine free woodpulp with no optical brighteners and a sodium polyacrylate superabsorber. The training pants also use some vegetable based superabsorber, as well as SAPs.
The waterproof outer layer is a mixture of polypropylene and polyethylene.
We were told that the tabs are Velcro, that the ingredients of the glue are proprietary, and that the elastic is elastic, which is not exactly helpful. The ink doesn't contain heavy metals.
We asked about the brownish colour (the 'pigments' in the ingredients listing), and were told that these were a dye, and in answer to our questions about they dye, Seventh Generation says: "The blend is proprietary to the supplier of the pigment. To the best of our knowledge, there are no known toxicity issues associated with the use of these pigments."  
Interestingly, their website also states: "Seventh Generation diapers are not biodegradable, nor can they be composted. Many of the materials used are synthetic, and do not biodegrade." It's actually quite refreshing to come across this lack of greenwash! Like all disposable nappies, even Huggies, the inner core is made from wood pulp, and this part as least is biodegradable, making up around 30 to 35% of the volume. (It's certainly not as good as Bambo Nature, Moltex or Beaming Baby, all of which have biodegradability up at around 75 to 80%).
We do know that Seventh Generation nappies are chlorine free, latex free and phthalate free, and that no perfumes are used. There are no petroleum based lotions, but we couldn't find out anything about the lotion that is used.
What's in Nature Babycare nappies?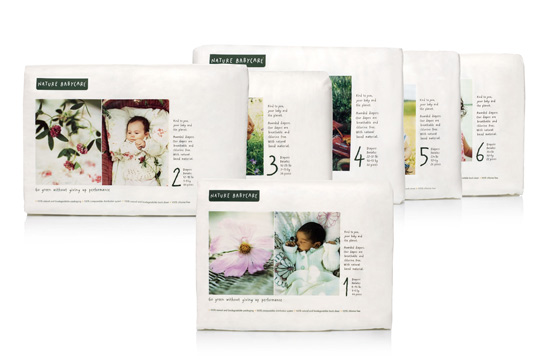 In response to our request for a full list of ingredients, we were given a link that directed us to the Nature Babycare website.
Under a heading that says 'we are the only nappy brand that declares it's eco ingredients', there are just five points, some of which link to certificates showing that they're not fibbing about these claims, nosiree. None of the links give ANY information about their ingredients. Not exactly a model of clarity.
Further digging around their website led us to their FAQ page.
That tells us that Nature Babycare nappies 'use cornstarch and other natural ingredients wherever possible', and that they 'consist of chlorine free pulp to help with absorption, a backsheet and distribution center based on corn, as well as chlorine free cellulose in the nappy. To further improve the absorption of our nappies we use a small amount of SAP'.
They do say that there's no latex in their nappies, but it's not exactly what I'd call full disclosure.
There's also have Health Issues page that assures there's no harmful or toxic chemicals in Nature Babycare nappies.
If that's the case, why not let us know what's actually in them, and why not answer our specific questions about phthalates, etc.?
There's a lot of greenwash on their website about how various parts of the nappy is biodegradable, etc, but there's another page explaining why you can't, after all, compost any of their nappy or assume that it will break down in any way.
While we know that it's the cradle to grave impact, not biodegradability, that is the most important way to tell if a disposable nappy is more eco friendly than another, the Nature Baby website is confusing. And of course, it's designed to confuse, so that you don't know if what you are choosing is better or not. I'm not impressed.
The ingredients that we did manage to get were:
Inner lining: plastic free and based on GM free corn
Absorbent core: Chlorine free cellulose fluff pulp, with sodium polyacrylates as the super absorber.
Waterproof outer layer: plastic free and based on GM free corn
Inks are free of heavy metals, and nappies do not contain latex.
No information about lotions, elastics, glues, tabs.
We can't find any information on their website about phthalates, lotions, PVC or anything else at all and judging by the ingredients in their baby lotions and baby wipes, we're going with the rule of thumb that if they don't specifically say it's not in there, assume the worst.
Nature Babycare nappies scored well on the Ethical Consumer Guide to Disposable Nappies, but this report was much more concerned about ethics and environmental responsibility, not ingredients. The lack of information about what's actually in the nappies confirms to me that they're the best of the supermarket nappies, but they would certainly not be my first choice for my baby.
What's in Pampers nappies?
Pampers were probably the least helpful of any of the manufacturers I approached.
After being asked why I required the information, the response I received was:
"The particular information you are requesting is either confidential or unavailable from our end. Because of this, we regret to inform you that we cannot send the information that you have requested.
May we suggest visiting our global website www.pg.com for the available information?"
Funnily enough, when I searched the Pampers website, I couldn't find any information on their ingredients at all. Promising looking links found on google were all rerouted back to the generic Pampers homepage.
To be fair, the people at Pampers are probably a little sensitive to questions about their ingredients, after the class action against them alleging that Pampers DryMax nappies caused chemical burns.
The best I could find on the Pampers website was a thread saying that Pampers that nappies contain pulp, cotton, a small amount of glue and SAPs. The link for further information, posted by Mike at Pampers, led straight back to the Pampers homepage. Further requests for information on the same thread weren't answered.
Lots more research and digging around revealed that Pampers also use polypropylene and polyethylene in their waterproof sheets, as well as fragrance (hello, phthalate alert!) and lotion which contains petrolatum.
In other words, nothing that we didn't already know, and nothing to assuage any of our concerns that they're using toxic ingredients.
Links to other disposable nappy comparisons:
Although this is a paid report, there's plenty of information available free. There's a really interesting interactive score table that you can manipulate to see which nappy scores best on different scores. Although Seventh Generation and Beaming Baby nappies weren't reviewed, it's very clear that Bambo Nature comes out on top, closely followed by Moltex and Nature Babycare. Huggies are about halfway down, and Pampers is at the very bottom of the ethical score.
Disclaimer: I'm no scientist, or chemical engineer. I'm a mum, using tools that are available to everyone on the web these days. I do this research for the benefit of my family, and I share this research with you to make life that little bit easier for other busy parents trying to make safer choices from the multitude of products available. Please bear in mind my amateur status as you're reading this research!
Please also note that there is more to products being safe than the toxicity of their ingredients ratings. Personally, I look for brands that are free from petrochemicals, don't test on animals, use natural ingredients and are from ethical companies.
If you'd like to share this information with other parents, please feel free to do so. However, please bear in mind the time that it takes for me to do this research, and do the right thing by attributing this article back to me here at Hello Charlie. Thanks!
© Copyright Vanessa Layton 2013
By Vanessa Layton
Get the latest posts straight to your inbox every week!